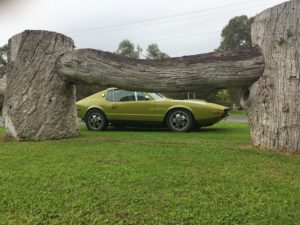 On Sunday 27th May ASC Social Club held a Car Rally, commencing at Bridgewater. The Adelaide Hills truly come to life in Autumn, featuring streets lined with deciduous trees dropping crimson and honey hued leaves – just simply stunning.
The 12 teams were sent on their way with navigational instructions, a list of items to collect, 32 questions to answer correctly and a list of areas to photograph (with additional points being awarded for artistic flair). Covering 120km the route was interesting and varied, with many people commenting at the end of the day that they visited places they had never been to, and would like to visit again to spend more time there. I believe Wirra Wirra Winery was a popular spot, with its glorious scenery, interesting history and very nice wines (sampled only by passengers of course).
This was not a race against time, but 1st , 2nd and 3rd prizes were awarded for correct answers, completion of tasks and provision of the items collected. Team Victim (Vicki & Tim) came first, followed very closely in a tie for 2nd place by Swedish Chefs (Stephen & Wendy) and Aces (Max & Lou). There was also a tie for 3rd place between The Red Liners (Natalie, Emily, Sophie & Georgia) and Scary Chihuahuas (Tony, Jane & Ryan).
The day culminated in a very nice two course meal at a country pub, where the food was excellent, the background music nice, and very good service. It was good fun to organise and I believe the day was a great success judging by the positive comments received.
Helena Wescombe-Down
Event organiser